RESUME OF ACTIVITIES IN THE SHOOTING RANGE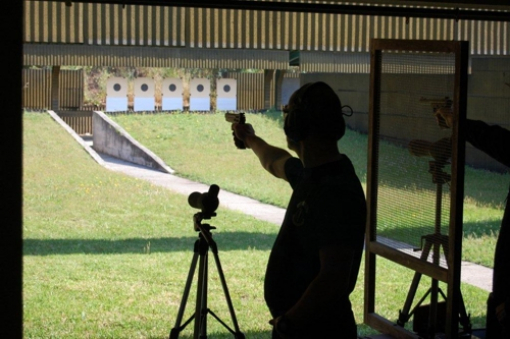 From May 12th, following the entry into the calamity situation, declared by the Resolution of the Council of Ministers no. 33-A / 2020, of April 30, it will be possible to use the Shooting Range of the Centro Desportivo Nacional do Jamor (CDNJ) for federated athletes, high performance athletes and National Teams.

Access and use of the CDNJ's Shooting Range is subject to pre-scheduling.


Interested athletes should do so through the E-mail
reservas.jamor@ipdj.pt
with a
minimum of 24h notice
, indicating the day, time and the shooting range in which they intend to carry out the training sessions.
Each training session will have a maximum duration of 01h30.


Only athletes, coaches and service staff are permitted to be present in the shooting range. Viewers are not allowed.


The use of the Shooting Range will require in this period, in addition to complying with the basic rules recommended by DGS, the implementation of the following complementary measures:


• Mandatory use of a mask while in the Shooting Range. It is up to the athletes to provide themselves with the necessary stock of masks for the period they are in the Shooting Range.


• Monitoring and validation of temperatures below 38ºC for all Shooting Range employees and users at the entrance to the facilities.


• All persons present in the Shooting Range must respect the minimum physical distance of 2m.


• Definition of circuits for passage to the various areas to comply with the distance.


The Shooting Range will be equipped with alcohol-based antiseptic solution dispensers at the entrance to the premises and along the paths of the premises.
In addition to these complementary measures, the Portuguese Shooting Federation (FPT) prepared a Manual of Procedures in which the rules for occupying the 10m, 25m and 50m Shooting Races are listed, as well as for the support facilities.


You can consult this manual
here
(in Portuguese only).
11-05-2020