Virtual Visit
The Centro Desportivo Nacional do Jamor (CDNJ) (Jamor National Sports Center) is a privileged space for supporting the development of sports practice at all levels, worthy of national level reference. Its various activities such as a High Performance Center, its excellence for practicing sports and leisure, characterized by its nature awareness, increase its high demand.
The CDNJ offers a virtual visit to all those who wish to know more about this Sports Center, through the virtual visits portal. With approximately 36 spherical images (360º) visitors will be able to contemplate the most diverse sport infrastructures and services existing in the Jamor area.
You can access the virtual visit to CDNJ here or by clicking on the image below.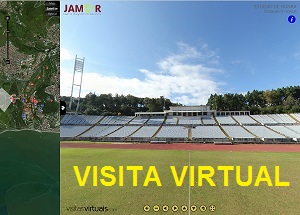 In addition to the general way of visiting the CDNJ, a virtual visit to each infrastructure / service may still be carried out from a detailed description of each installation (found in the left menu under "Facilities", or in the case of the High Performance Center from the "High Performance Center Installations" menu).
To carry out the virtual visit simply use the navigation buttons or the mouse to move the spherical photos in case you are using a PC, it is also available for tablets and smartphones.

How to use on a PC:
move the mouse to any direction with the left button pressed


use the scroll wheel on the mouse to zoom in and out


click on the icons on the map to access the image of that location

Visit us and enjoy this place of sports excellence!