OCR POLICE CHALLENGE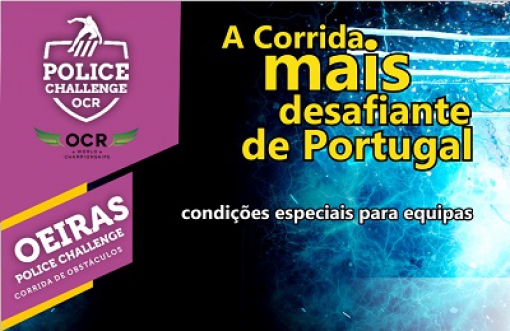 The OCR POLICE CHALLENGE Oeiras 2019 will be held at the Centro Desportivo Nacional do Jamor (CDNJ) next Sunday, September 8th, between 09h00 and 14h00.
The OCR POLICE CHALLENGE races are a challenge for everyone, ranging from 8 to 10 km, with dozens of natural and pre-installed obstacles involving strength, coordination, fun, water, mud in a team format. building "or individual competition.
Along the way you will be confronted with words of encouragement, obstacles of great technical complexity and danger if the rules are not respected, however, it is a personal challenge and no one is required to complete any of the obstacles.
Choose the challenge that best fits your goals and challenge yourself!
The race will start at 09H00 with the departure of 200 athletes successively every 15 minutes.
More information on the OCR POLICE CHALLENGE website here.

02-09-2019