COMPLEXO DE PISCINAS DO JAMOR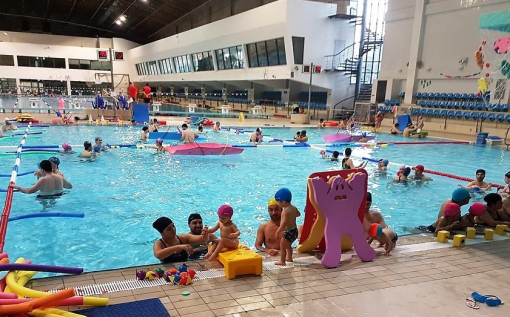 The Escola de Natação do Jamor (Jamor's Swimming School) is preparing to move to the 2018/2019 season. The period of Renewal and Registration for the next season will run on the following dates, and according to the respective procedures.
RENEWAL OF REGISTRATION
Deadline: June 27 to July 3, 2018
Recipients: all users with valid registration in the 2017/2018 season, and until the end of July 2018
Procedure:
Renewal of the registration through the payment of the registration fee and the first monthly payment of September (according to the rules of use of the Jamor's Swimming Pools Complex), via ATM, secretariat or payments in the digital kiosks in the Swimming Pools Complex.


This renewal will ensure enrollment for the 2018/2019 season, in the same class / schedule and / or according to the teacher's prescription.


The suggested schedule for the 2018/2019 season will be communicated to the user via email from June 27


This renewal period is intended solely for renewal according to the proposed pre-registration.


The renewal process through payment of the reference Multibanco will not be available for enrollment in the 3-year Aquatic Adaptation classes (AMA 3), except for cases identified (i.e., they receive the email with proposed pre-registration information and respective reference). The renewal of the enrollment for these classes will have to be done face-to-face in our office, with the choice of the schedule depending on the vacancies available, being the criterion of filling vacancies the order of arrival.
We suggest that in this phase, in order to avoid long waiting periods in the secretariat, the procedure should be preceded by Multibanco reference.


TRANSFERS
Deadline: from July 9, 2018
Recipients: users who wish to transfer to a new schedule, including households (without uniformity of time).
Procedure: face-to-face, at the secretariat. Only with available vacancies.


FREE USE
Deadline: from August 1
Recipients: users enrolled in the free use modality in 2017/2018 and who wish to renew the registration for 2018/2019
Procedure: face-to-face, at the secretariat.


NEW INSCRIPTIONS (for family members)
Deadline: September 3 to 6, 2018
Recipients: only parents and / or siblings of users with registration valid in 2018/2019.
Procedure: face-to-face, at the secretariat.

NEW INSCRIPTIONS (general scheme)
Deadline: from September 7, 2018
Recipients: all interested
Procedure: face-to-face, at the secretariat. Required documents: Citizen's card + updated photograph (or updated photo document).


Secretariat opening hours: Monday to Friday, from 10:00 am to 7:00 p.m. (except August, which will only run from 12:00 to 3:00 p.m.) / Saturdays, from 9:00 p.m. to 1:00 p.m (except July 28, August and September 1)
Application form available here.
Rules for the use of the Jamor's Swimming Pool Complex (effective as of September 1, 2018) available here.

For any doubts or questions contact us through the electronic address: piscinas.jamor@ipdj.pt
26-06-2018