#Beactive Jamor Office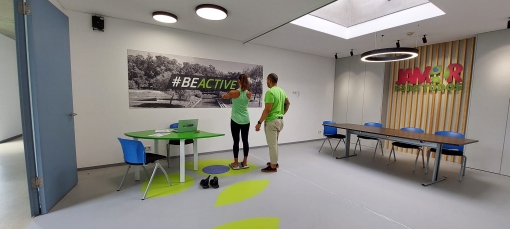 The opening of the #Beactive Jamor office will take place on the 19th of the 8th edition of the European Week of Sport, which will take place from the 23rd to the 30th of September.

This project aims to make known all the services that the CDNJ makes available to its users, through a personalized and careful service, thus giving more interactivity to the Jamor para Todos program and its various activities.

At the #Beactive Jamor office, it will be possible for us to advise on active lifestyles, anamnesis and body composition aimed at all users of the CDNJ regardless of their level of physical capacity.

The #Beactive Jamor office will be in operation next to the changing rooms of the Athletics CAR building and will be open from Monday to Friday, from 10:00 am to 1:00 pm and from 4:00 pm to 6:00 pm.
16-09-2022