NATIONAL STADIUM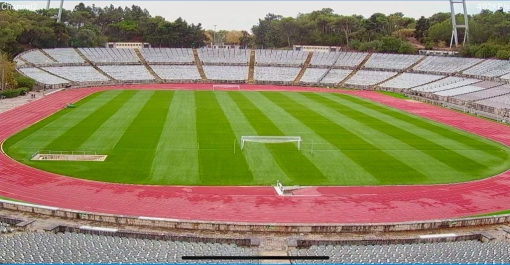 The intervention for the requalification of the Estádio Nacional turf is completed. Football returns to Jamor next Sunday.
The National Stadium of the Centro Desportivo Nacional do Jamor (CDNJ) has a natural grass field measuring 105x68m, with artificial lighting and a capacity for around 37,500 spectators. It has been regularly used by Federations and sports clubs and has been the scene of numerous sporting events, shows and various types of events.
Considering the current needs and sporting requirements at the highest level, it became necessary to requalify it, in order to provide the appropriate technical, structural and functional characteristics to respond to the requests and commitments assumed and provide the best conditions for the sporting spectacle, namely the televised games, guaranteeing the aesthetic and performance quality even in the most rigorous winter periods, valuing the sports facilities and the athletes.
To ensure good sporting performance and overall turf quality, current construction techniques were used for natural sport turfs in order to guarantee premium surface quality parameters.
This requalification will allow a more sustainable management of resources and a better use and profitability of this installation by the possibility of responding to the needs of high performance and competitions organized by the Portuguese Professional Football League.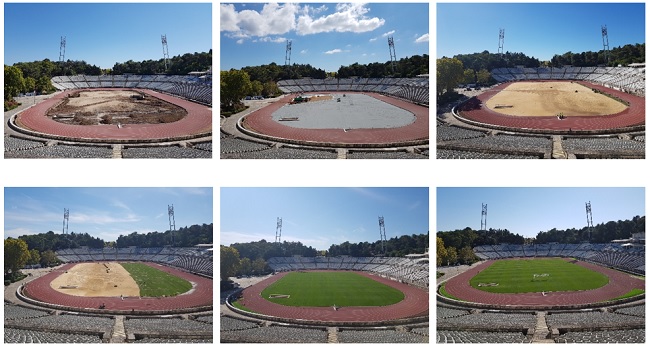 The following interventions were carried out: Removal of the grass mat and surface excavation; Execution of a new Drainage System; Implementation of a new Irrigation System with independent sprinklers for its automation and monitoring; Rooting area and placement of natural grass mat in Big Roll and replacement of surrounding framing beds with synthetic grass.
With the work completed, football returns to Jamor next Sunday, with the game Belenenses SAD vs Santa Clara.
30-10-2021