JAMOR, MUSIC AND YOUTH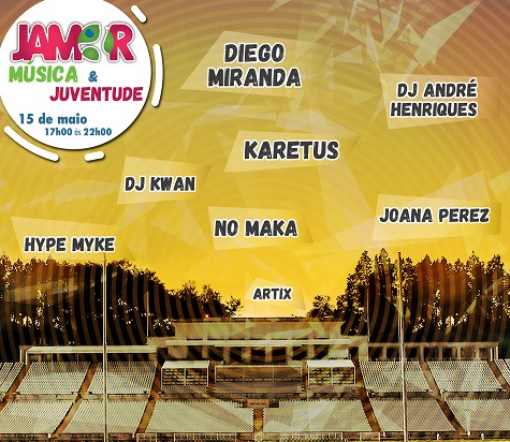 Still within the scope of the celebrations of the 75th Anniversary of the National Stadium, in a musical event broadcast online directly from the Tribune of Honor of the National Stadium, we will have today, May 15th, from 17:00 to 22:00, Artix, Hype Myke, Joana Perez, Dj Kwan, Andre Henriques (with DIANNA), No Maka, Karetus and Diego Miranda in a music explosion!
This online party also marks the International Family Day. IPDJ (Portuguese Institute of Sport and Youth) and ProDJ invite families to the Jamor, Música e Juventude event, which will be broadcast live from the Tribune of Honor of the National Stadium, at the Centro Desportivo Nacional do Jamor (CDNJ).

This event complies with all current health recommendations.
With the aim of celebrating both events and at the same time, contributing to keeping everyone happy at home, the program starts at 5 pm and extends until 10 pm, with a parade of beats brought by national DJ Diego Miranda (in the image) , Karetus, No Maka, André Henriques, Kwan, Hype Myke, Joana Perez and Artix.
The show is signed by Robert Grabko, an American producer based in Portugal, who has three awards for the coverage of the Rio de Janeiro Olympic Games in 2016, Beijing Olympic Games in 2008 and NBA All Star Saturday Night.
This event is part of the #SerJovemEmCasa campaign and can also be followed on the social networks of the musicians and on Rádio Cidade.
In these five hours of music, the stage is your home and the dance is up to you!
Turn on the sound and join the party here!
Participate by telling us where you are from or leave a message on this stage!
Alignment:
17:00 - 17:30 | ARTIX
17:30 - 18:00 | Hype Myke
18:00 - 18:30 | Joana Perez
18:30 - 19:00 | Dj Kwan
19:00 - 19:40 | Andre Henriques (with DIANNA)
19:40 - 20:20 | No Maka
20:20 - 21:00 | Karetus
21:15 - 22:00 | Diego Miranda
15-05-2020