European Sports Week (SED)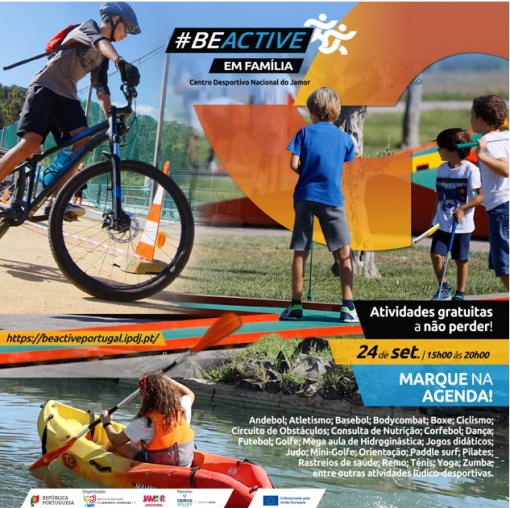 The Portuguese Institute of Sport and Youth, I.P. (IPDJ), takes over, for the 8th time, the national coordination and implementation of the strategy and actions of the "European Sports Week (SED)". The European Commission's initiative is primarily aimed at promoting the benefits of regular sport and physical activity.
Saturday, September 24, 2022, the #BEACTIVEemFAMÍLIA day will be celebrated at Jamor, an event for all ages, with the aim of promoting physical and sports activity in the family and encouraging participation in them in safety.
From 15h00, we will have several free activities and without prior registration, which allow the experimentation of the most varied sports: Handball; Athletics; Bodycombat; Boxing; Cycling; Obstacle Course; Corfebol; Dance, Football; Golf; Judo educational games; Mini Golf; Guidance; Paddle surfing; Pilates; Rowing; Tennis; Yoga, Zumba., are some of the activities available.
Health screenings and nutrition consultations are also planned.
Choose how to participate. Do you accept the challenge?
Mais informação em: https://bit.ly/3qbQEUe
06-09-2022