EUROPEAN SPORT WEEK
As part of the commemoration of the European Sport Week, which runs from 23 to 30 September, the Centro Desportivo Nacional do Jamor (CDNJ) joins the initiative by promoting during the period in question various sporting activities, with various partners of the Jamor for All Program.
Come participate and experience the many activities available!
Check the times when they take place, as well as the spaces where they take place.
Click on the image to see it in larger format
Note: Golf activities and visits to the CDNJ have limited enrollment and require prior reservation up to 24 hours before the activity takes place, via email to reservas.jamor@ipdj.pt indicating the desired date and time (in the case of the visits) and the number of persons.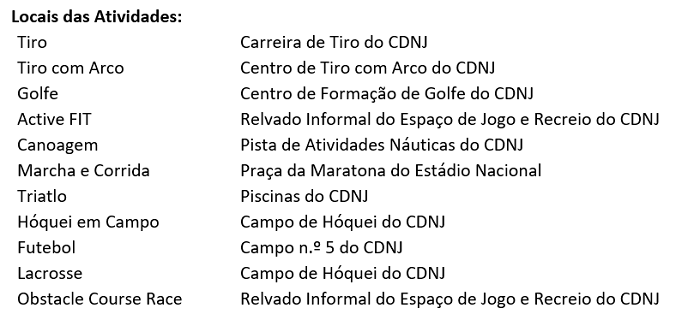 Activity Partners: Shooting - Portuguese Shooting Federation, Archery - Sporting Clube de Portugal, Golf - Portuguese Golf Federation, Active FIT - Calories Gym, Canoeing - Millenium BCP Club, Marching and Running - Portuguese Athletics Federation, Triathlon - Portuguese Triathlon Federation, Field Hockey - Lisbon Casuals Hockey Club, Football - Belenenses SAD, Lacrosse - Portuguese Lacrosse Association, Obstacle Course Race - Portuguese Federation of Obstacle Course Race.
Find out more about the European Sport Week 2021 at https://beactiveportugal.ipdj.pt/
22-09-2021