Escola de Natação do Jamor
Hydrotherapy | Swimming for Babies | Swimming Classes | Water Aerobics | Related Information | Renewals / New entries 2019/2020 |
The Escola de Natação do Jamor (Jamor's of Swimming School), in its 20 years of existence has perfected its sporting offer, providing at present several activities in the area of water aerobics, Hydrotherapy, Swimming for Babies and of course in the spectrum of Pure Swimming.
The current season ends on July 26th, and we are already preparing for the next season - 2019/2020.
Check out the links above to learn more about our current sporting offerings and the upcoming renewal or renewal process.
Hydrotherapy
Activities that use the physical properties of water (impulsion, pressure and resistance) and its benefits (movement facilitation, relaxation and pain relief), aim to increase the functionality of the patient with orthopedic, neurological, rheumatologic and / or cardio / respiratory pathology and, consequently, improve their quality of life.

REHABILITATION: Treatment sessions in small groups in order to individualize the approach to patients with subacute or very specific clinical situations (example: post-operative).

POSTURAL CORRECTION: Class intended for those who present postural changes and / or pathologies of the spine, for whom the practice of specific aquatic activities is advised as a way to prevent or correct such situations.

PRE-BIRTH: Class destined for pregnant women, from 12 weeks of gestation, with medical indication for the practice of the activity.

POSTNATAL EXERCICE: Class destined for woman who have just given birth, from the 6th week of the Post-partum, with medical indication for the practice of the activity.

PARA SWIMMING: Aquatic adaptation classes specific for individuals with permanent disabilities.

THERAPEUTIC SWIMMING: Swimming lesson as a complementary way to compensate deviations of the spine and postural changes.

CLINICAL PILATES: Class intended for those who present postural alterations and / or pathologies of the spine, who benefit from the practice of global strengthening exercise, in order to correct or prevent such situations, and for whom the practice of aquatic activities is not advised / preferred.

Admission: The enrollment in any Hydrotherapy modality implies the previous diagnostic evaluation with the responsible therapist. For this purpose, you should contact the secretariat or send an email to piscinas.jamor@ipdj.pt requesting the respective appointment.
Click on the image to see the schedules in larger format
Swimming for Babies
Activity that enhances the child's development through playful tasks, using methods and specific strategies that promotes not only adaptation to the aquatic environment but also a mobility, cognitive and social development. From the age of 6 months, babies are placed in classes corresponding to their age.
Classes:
B6-12 | B12-18 | B18-24 | B24-30
The aquatic environment is an adventure and exploration space, which puts the child facing the dilemma of trusting the unknown. It is, therefore, a privileged context to experience new mobility behaviors and stimulate the various senses, developing competences in different areas:
Mobility Area
Aquatic environment adaptation
Cognitive Area
Social Affective Area


Click on the image to see the schedules in larger format
Swimming Classes
Activity that develops all the aquatic skills, from the adaptation to the improvement and optimization of the four swimming techniques, preparing our students for the challenges of the aquatic environment.
From the age of 3 the users are placed and progressed accordingly to their age and competence.
Classes:
Adaptation to Aquatic Environment: AAE 3, AAE 4, AAE 5-6, AAE 7-13 and AAE +14


Learning: Level I, Level II, Pre-competition I.


Improvement: Pre-competition II, Level III and Level IV
Admission: To join Competitive Swimming from the age of 6 you must take a swimming test that indicates your swimming level, according to the acquired skills. In case you don't have experience in swimming, you must sign in directly into an AAE class, according to your age.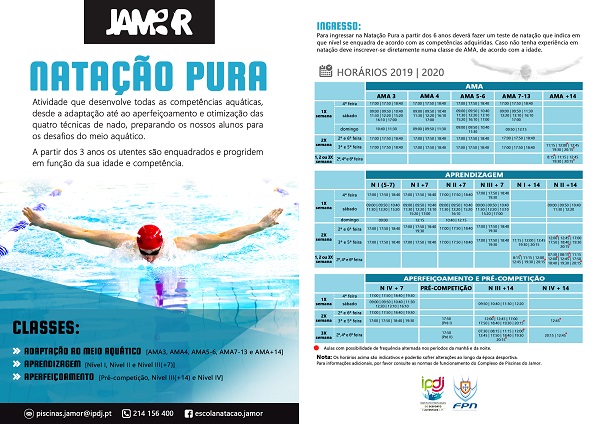 Click on the image to see the schedules in larger format
Water Aerobics
Group activities for adults (+14 years old), using music, natural resistance of water and auxiliary material, with the ability to stimulate physical and psychological well-being in a fun, effective and relaxing way.
Main Benefits:
Improve cardio-respiratory fitness, endurance and strength
Improve body posture
Improve body composition
Reduce Stress
WATER AEROBICS
Exercises performed in aquatic environment that use the natural resistance of water.
Duration: 45 minutes
Location: High Diving Pool
Intensity Level: moderate to intense
HIDRODEEP
Exercises performed without foot support on the ground, but with the aid of flotation equipment.
Duration: 45 minutes
Location: Olympic Swimming Pool
Intensity Level: moderate to intense
HIDROSENIOR
Exercises adapted to the morphological and physiological characteristics of the population. Activity aimed at people over 55 years old.
Duration: 45 minutes
Location: High Diving Pool
Intensity Level: low to moderate
New offer in the area of Water Aerobics: Aqua Power and Aqua Cross Training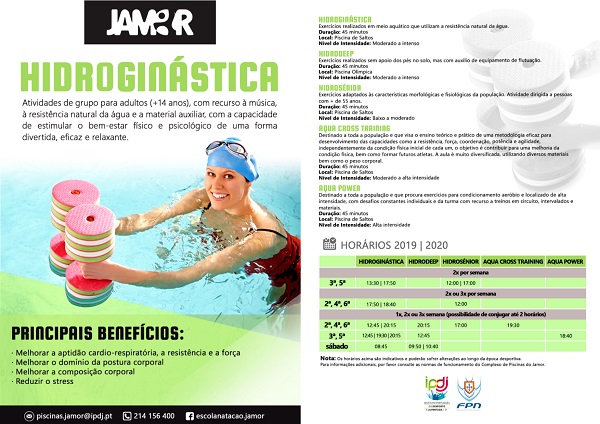 Click on the image to see the schedules in larger format
Related Information
The 2018/2019 season will end on July 26th.

Period of Operation of the Secretariat:
Regular schedule (during sports season)
Monday to Friday between 9am and 7pm and Saturdays, from 9am to 1pm

Schedule until the beginning of the sports season 2019/2020 (September 23rd, 2019)

Between July 27th and September 8th: business days from 10am to 4pm
Between September 9th and September 22nd: Business days from 9am to 7pm and Saturday, September 21st between 9am and 1pm
Consult also Jamor Swimming Complex Usage Rules (in force from September 1st 2019) here (in portuguese only).
You can consult below the Price Lists of the Swimming Pool Complex:
For more information check the brochures for each activity or contact us via our email address
piscinas.jamor@ipdj.pt
We are Waiting for you!
Renewals / New entries 2019/2020
The 2019/2020 season will run from September 23rd to July 31st.
The new registrations will start as of September 16th, in person at the office and upon vacancies, being the criterion of fill vacancies the order of arrival.
See the different renewal/subscription periods in the image below (in Portuguese only):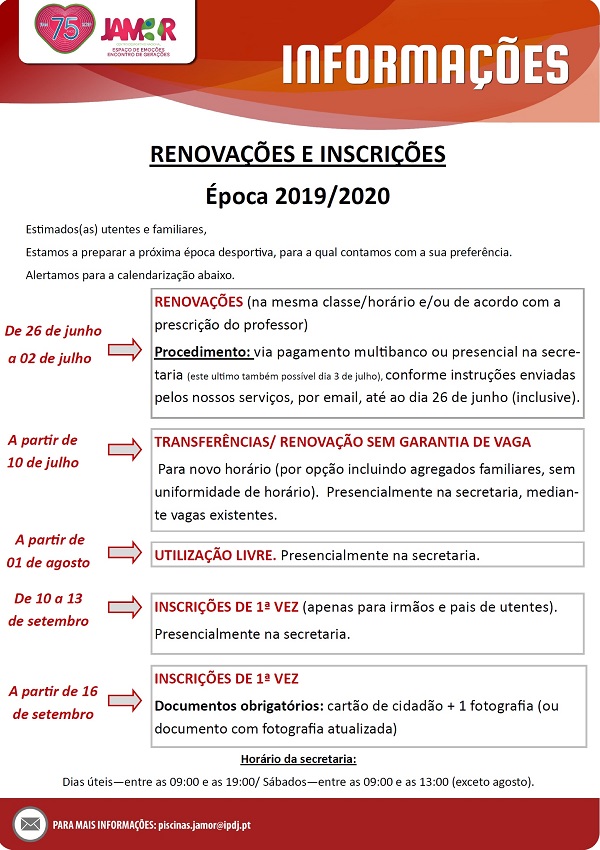 Required documents for new registrations / renewals for the 2019/2020 season:
Identification Card


1 Recent photo


Registration / Renewal / detail update form (download here)

Swimming Testing
Registration in Swimming classes implies prior swimming test in the following situations:
Application for Regular Free Use
Enrollment in Pure Swimming classes for users over 6 years of age and experienced in swimming.

Swimming tests schedule (does not require prior appointment):
Between September 9th and 21st:
Business days-from 12:00 to 14:00 and from 16:00 to 19:00
Saturday from 10:00 a.m. to 12:00 p.m.
Business days - from 11:30 a.m. to 1:30 p.m. and from 5:00 p.m. to 8:00 p.m.


Saturdays - from 9:30 a.m. to 12:00 p.m.